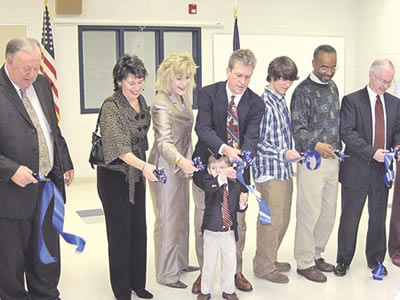 Members of the Burton family, school officials and students cut the ribbon Thursday morning officially opening the J. E. Burton Construction Company Inc. Pro-Engineering Computer Aided Design (CAD) Lab at the STEM Center.
"Today is not about me or my company, it's about children and the students of Halifax County," said Brian Burton, president of J. E. Burton Construction Company. "This is one way to give back to the community that has supported our company for 72 years."
The laboratory features 20 complete computer stations equipped with Pro-Engineer CAD software. Superintendent Paul Stapleton said Governor Tim Kaine chose four school divisions in the state to receive a million dollars worth of the CAD software that all the major businesses around the world are using.
"Our students are getting the lead-in on something that hopefully will help all of them in their careers," Stapleton said. "We were extremely pleased to get the software and the components that go with it."
Burton donated the computers and other hardware needed to run the new CAD software.
"Brian stepped up because he really wanted to do something to honor his grandfather and the construction company," Stapleton said. "On behalf of J. E. Burton Construction Company, Brian made the donation that got the hardware in this building and got our students moving quickly down the road."
.
A plaque placed outside the new CAD lab dedicated the lab in memory of John Edward Burton Sr., one of the founders of the company and Brian Burton's grandfather, and in honor of his grandmother, Betty Burton.
Stapleton said Burton worked with the Halifax County Public Schools Education Foundation to establish the lab, which was put together quickly beginning at the end of October. When second semester began in January, students started on the new software in the newly-furnished lab, Stapleton said.
Logan Young, president of the Halifax County Public Schools Education Foundation, said it's critical now, more than ever, to form partnerships with businesses. "It's through that initiative and through that effort that we've been able to have this contribution made by J. E. Burton Construction Company," Young said. "We applaud them and are grateful that we can, as a foundation, support the initiatives of the school and bring programs like this into existence."
Steve Anderson, chairman of the Halifax County School Board, expressed the appreciation of the school board to Brian Burton and J. E. Burton Construction Company for their gift. "In order to achieve what we would like to achieve and what our goals are, you have to have a lot of pieces to the puzzle," Anderson said.
"We have great students, and we have faculty in place; the piece of the puzzle that was missing for us was the tools needed in order to teach them and for the students to learn," the chairman said. "Because of the generosity of J. E. Burton Construction Company, we now have the tools, the final piece of the puzzle that we can use to put together in order to provide for this outstanding opportunity that these students have."
Anderson challenged the students to return to Halifax County after they have completed their college careers.
Halifax County High School Principal Albert Randolph echoed Anderson's comments. "Part of the mission is for students to achieve at a high level," Randolph said. "Because of this equipment, because of the generosity of Mr. Burton, we are able to provide students an opportunity to achieve at a higher level."
"I would say there's not another high school in the state that has a better CAD lab of any kind than our students do," Stapleton said. "I think it ranks with a lot of college labs."
Burton said the training students receive in high school can have a positive impact on economic development by providing highly trained workers for industries that may locate here.
Halifax County IDA Chairman John Cannon agreed with Burton. "This is one of the greatest assets we have in Halifax County," Cannon said. "As a new business comes in, and they see we're doing this pro-engineering and the other STEM Academy programs going on here, it's a star in the recruitment of new businesses and taking care of existing businesses.
"It means that the students can come right out of the high school and can go into their facilities and be extremely important individuals and employees of those companies."
From the Gazette-Virginian